Archive for Bee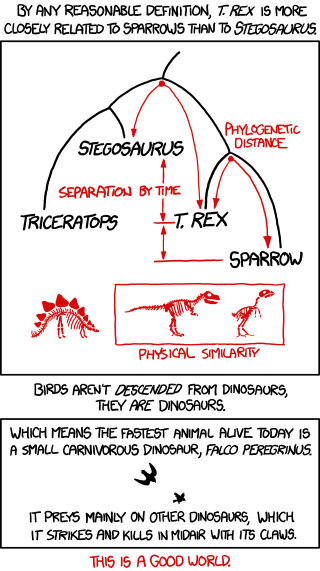 Geoffrey wanted me to share today's xkcd strip with y'all. He's pretty excited about this revelation, and says it explains why there were so many sparrows at his most recent family reunion.
The Amazing Spider-Man 2 has been out and about filming in NYC lately which is pretty much the most exciting thing ever. Though it's been a little hard to keep up with pics without spoiling anything, I had to share some snaps of Andrew Garfield as Spidey from this weekend's filming. A.Garf/Peter Parker/Spidey straight chillin' in the suit is hilarious to me.
Check out the pics, let me know if you agree that Spider-Man suits + parkas + baseball caps are the look for Spring!
On Saturday I made a major life change… slash got a hair cut. Martha at Head Chop in Williamsburg cut off my ponytail (at my bidding), and then did a marvelous job turning the remaining hair into an approximation of what my haircut looked like when I was ten years old.
I gotta say, I'm a little weirded out, but totally excited about my new 'do. Is there a crazy cut you've been longing to try? Let me know in the comments! Then go get a haircut and send pictures!
It's a proven fact that Shawn Hunter has the best hair in the history of television, but I am just now realizing that his style is totally on point as well.
The 90s are back, y'all, and I'm getting into it with a complete series rewatch of Boy Meets World. This weekend I made it almost all the way through season 1, and my favorite part so far is Shawn's awesome, dinosaur covered t-shirt. How cool is it?? Even cooler, it totally matches our super-rad Dinosaur Knee Socks, which I am wearing today/every day into perpetuity.
Which nineties TV star do you think has the best style?
I'm loving these fun Instagrams from our Pop-Up Shop in Chelsea Market! Stop on by to check it out for yourself, plus shop for amazing Mother's Day Gifts, Spring Dresses, Hot Sunnies, and more!!
Today's the last day to stop on by… we're open from 10:30-5… hope to see you there!!
The Great Gatsby premiered last night here in NYC, and while I can't wait to see the movie I'm totally in love with the stars' looks IRL!
Which outfit is your fave?
Our Spring Pop-Up Shop is now OPEN in Chelsea Market in Manhattan! That's right, from today through Sunday you can stop by and shop Fred Flare in person! We've brought our most amazing Spring Dresses and Mother's Day Gifts to Manhattan… plus sunglasses, inflatable animals, books, novelties, and more.
Find us in Chelsea Market, 75 Ninth Ave, NYC, open 10:30-7 Wed-Sat and 10:30-5 on Sunday! See ya there!
***QUEEN MILEY ALERTZ*** I cannot get enough of the latest incarnation of Miley Ray Cyrus. GF covers the new V Magazine and looks smokin' hot. Black blazers, tore up boyfriend jeans and underboob tats are the new look!
The interview is super cool (learn the story behind the hair chop!) and gives a peek into what Miley's new music might sound like. Check out a behind-the-scenes vid below, and some of the more risqué pics behind the jump.
continue reading MILEY CYRUS FOR V MAGAZINE
Not only does the name of these leggings sound like a really cool Doctor Who episode, but they are hella comfortable and super stylish! Wearing you every day, leggins.
I love these pics of Emma Watson & her bestie out and about in London. They're both rocking totally casual spring looks, but still look put together. Lucky for the rest of us, it's super easy to take a page from their style manual!
You can't go wrong with a classic white button down, so grab your fave and toss the Boyfriend Blazer over top of it for Emma's look. Pair with some chic shorts and fun flats, and don't forget your purse!
Floral dresses + hoodies are my jam for springtime, and Emma's bestie's look perfectly balances girly with laid-back. Our BB Dakota Floral Nottingham Dress fits the bill… and has an English name so, duh.
Both girls look great in the Charlie Sunglasses and you will too! Now, how to put the finishing touches on these best friend looks? Besties Charm Necklace Set, of course.
Which girl's look will you be rocking this spring??
Soooo the premiere of the new Arrested Development season is fast approaching (Memorial Day hollaaaa) and to celebrate this week's Entertainment Weekly has three different covers featuring the Bluth family, plus some exclusive new pics!
This has been such a long time coming and I'm so excited! I'll definitely be picking up all three issues… which cover is your favorite?
So I finally saw Spring Breakers last weekend and it made me feel kind of weird and sad inside? I don't know. I still haven't finished processing that experience.
I do know that I loooooove Vanessa Hudgens for Paper Mag's Spring issue! Bjork meets Joan Jett? Love it! Baby V, you may not be little Gabriella in HSM anymore and I guess 3 years later it's time to realize that you and Zac Efron are never ever getting back together… but you'll always have a special place in my heart.
What do you think of Vanessa's pics??
This Polka Dot De Gala Scarf is the business, y'all! Pick one up for your mom/self/dino bro! #GeoffreyJrApproved